The Best Enterprise-level Managed IT Services in Houston
Keep your IT infrastructure up with our Managed IT Services in Houston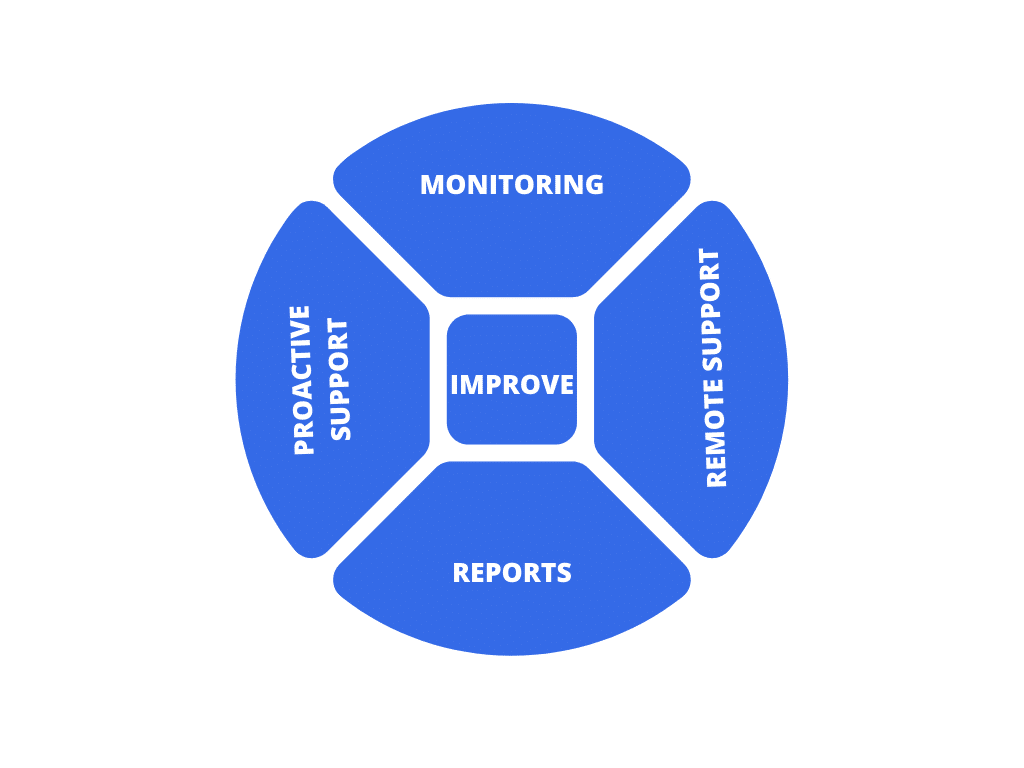 Our Managed IT services Houston Offers
IT management is a too tough task for every business to handle as the business grows. Forget about the overhead cost and resource shortage to bring your business IT infrastructure handy. Medha Hosting is offering a comprehensive managed IT services in Huston. You can relax and focus on your business, our IT support will take care of your environment.
We won't let you afford to lose productivity by any of your IT systems or network. We have a team of certified professional IT services experts in Huston to mitigate all your IT troubles. Our support team will monitor your IT environment and ensure the seamless performance of the infrastructure 24/7. Regardless of your business sector, we will guarantee the maximum uptime and real-time
Know more about our managed IT services in Houston
Server Administration in Houston
Helping to manage the server environments and its components, our server administration team is enabling enterprises to get rid of their IT hassles. Our managed IT services team provides server setup, configuration, administration, troubleshooting, patching, upgrades, and protection
Network Administration in Houston
Hiring our network administration service gives you the freedom to get rid of any downtime causing buy network snags. Our trained IT professionals will over your network issues and mitigate them in no time. With our managed IT services in Huston, you can avail of the best network monitoring service with regular maintenance practice.
Patch management service in Houston
Implement the best security practice with our patch management service. Our expert patch management team will fend off all the vulnerabilities across your business IT systems. We cover your systems, network, servers, and all components around your IT environment to ensure a secure business infrastructure.
Microsoft Azure Consulting in Houston
Build your cloud strategy with the increasing possibilities of Microsoft Azure. We will help you to select the best Azure solution based on your business necessity. Our Azure experts will help you to gain the strategical and operational benefits of a public cloud solution and re-engineer your infrastructure with assured benefits.
Aws Consulting in Houston
Using AWS as a platform enterprise can upscale your business infrastructure competitively. We help you to get the most out of AWS based on your business needs. Our certified AWS architects guide you to choose the suitable AWS solution and support your cloud operations round the clock.
Office 365 Migration in Houston
Our Office 365 migration service measures your current business capacity and suggests the most suitable migration solution in agility. Our IT service professionals with deep technical expertise in Office 365 migration, provides all-inclusive migration support from planning to configuration. We have a team of Microsoft certified professionals to support you over pre and post-migration tasks.
Virtualization Service in Houston
Reduce your IT infrastructure overhead and get the best out of Virtualization service. Our virtualization experts will help you to increase efficiency at affordable spend on IT infrastructure costs. We help you further in controlling additional Workloads in your data centers and guaranteed assistance round the clock.
High Availability Solution in Houston
We ensure your systems, servers are available and provide next-generation high availability solutions throughout your operation cycle. Our IT experts will analyze the set availability and identify the points of failure to create the best in class solution for your setting. Our managed IT services in Houston covers your entire infrastructure and employ an enterprise-specific high availability solution.
365 x 24 x 7 NOC Monitoring in Houston
Our managed IT services in Huston offers 365x24x7 NOC monitoring service. Our IT experts cover your networks, servers, databases, and ensure the uninterrupted service with a performance guarantee.
Google Cloud Consulting in Houston
Google cloud got a lot to enrich your business performance and growth. Explore the possibilities of Google cloud and upscale your business scope with our managed IT services in Huston. Our certified cloud experts will help you to plan, design, and deploy your business infrastructure over Google cloud. Our cloud architects analyze your business readiness from a futuristic approach and guide you to land on the best cloud solutions as well.
Now describe your business needs