The Most Reliable Managed IT Services in Orlando
Optimize your IT infrastructure with our Managed IT Services in Orlando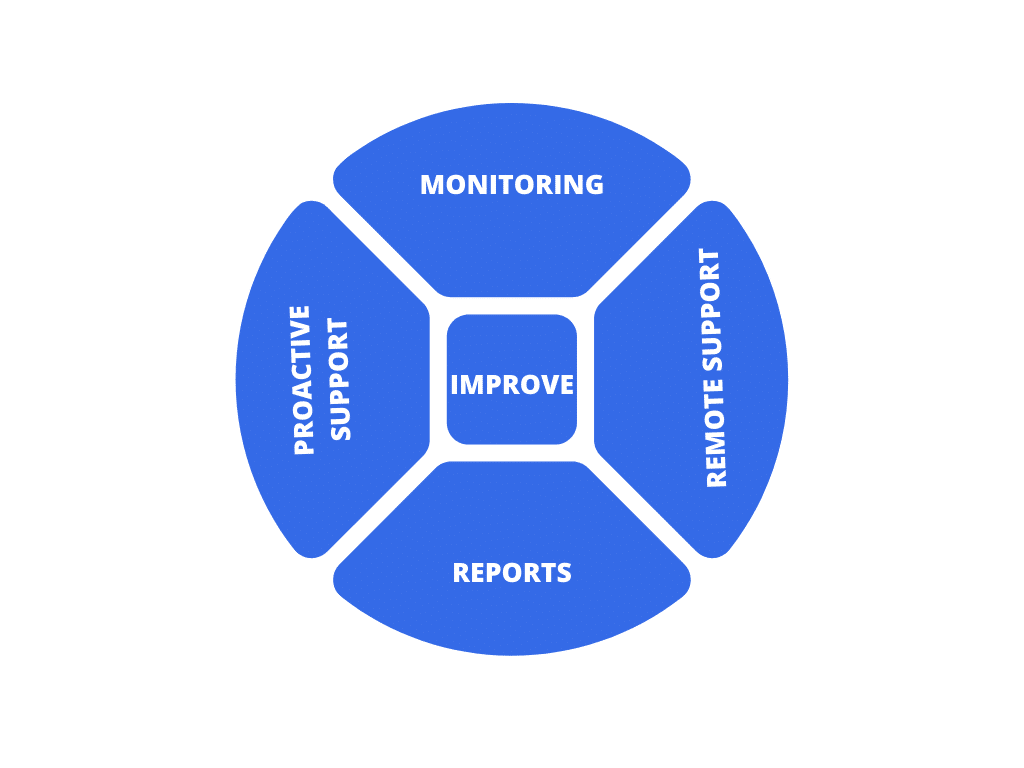 Our Managed IT services Orlando Offers
Experience reliable managed IT services in Orlando with professional assistance. Our customer-centric IT management approach helps you to cut down IT management troubles arising across your business journey. Enjoy expert IT service management to meet your business goals.
Our managed IT services Orlando manages your company's IT systems, including network infra, hardware support, software service, and much more. As your managed IT service provider in Orlando, we will enable you to improve your business performance and cut expenses with custom IT management practices.
Know more about our managed IT services in Orlando
Server Administration in Orlando
Server administration is an unavoidable job for every business that is driven by IT technologies. Our server administration service offers a wide range of server support services. Be it your single server of a server cluster, our managed IT services in Orlando provides holistic server management solutions based on the requirement of your IT infrastructure.
Network Administration in Orlando
Our certified network engineers cover your network cluster and keep it steady 24/7. We will help you to get rid of network issues by finding the causes of unexpected downtime. Now you can get the end-to-end network administration work done by our managed IT services in Orlando at an affordable rate without losing the quality and punctuality.
Patch management service in Orlando
Update your applications, networks, and devices with the latest security patches and version updates timely. Our patch management service gives all the freedom to entrust on your systems and make it fail-proof. We eliminate all the vulnerabilities around your systems and IT infrastructure with the latest patch management best practices.
Microsoft Azure Consulting in Orlando
Our Microsoft Azure will direct to the most appropriate Cloud solution on Microsoft Azure. Our expert cloud engineers with in-depth experience in cloud consulting, designing, and infra development will help gain potential benefits from the extensive range of cloud solutions from Microsoft Azure. Our managed IT services in Orlando provide a trusted Microsoft Azure consulting service based on your requirement.
Aws Consulting in Orlando
Our specialized AWS cloud architects help you to strategize, develop, and deploy your critical business application in the AWS cloud environment. Our trained experts evaluate your companies cloud requirements and the existing architecture to give the fitting roadmap for public, private, and hybrid cloud solutions.
Office 365 Migration in Orlando
Our Office 365 Migration service gives you the broadway to leap your business seamlessly with the power of advanced cloud technology and collaboration tools. Out time-tested best migration practices and expert IT engineers will churn out a business-specific office 365 migration solution. Out IT service team in Orlando guide to churn out the most out of Microsoft cloud platforms as well.
Virtualization Service in Orlando
Get the amazing benefits of advanced virtualization technology and cut your IT infrastructure cost with our managed IT services Orlando. Our skilled engineers help you to deploy virtualization of your serves and networks and eliminate the troubles arising when multiple applications are created.
High Availability Solution in Orlando
Ensure your application cluster, server environment, and network are available 24/7 with our high availability services Orlando. Our trained high availability solution engineers weave your mission-critical high availability solution for the business. Our team will make sure the applications and networks are optimized and under consistent surveillance round the clock.
365 x 24 x 7 NOC Monitoring in Orlando
Our comprehensive NOC monitoring service in Orlando offers regular monitoring service for your critical business servers, its networks, databases, application clusters, and end devices. Our trained network engineers with varieties of technology expertise weave the best fitting NOC solution for your company.
Google Cloud Consulting in NOrlando
We help enterprises to identify their IT infrastructure weak points and formulate a solution that helps them forever on Google Cloud. Being an authorized Google Cloud Partner, our certified cloud engineers help you to get the best out of Google cloud platform to drive your business high. Our managed IT services in Orlando are all set to drive your business IT infra to the next level.
Now describe your business needs