Most affordable Managed IT Services in Dallas
Your Ideal Managed IT Services provider in Dallas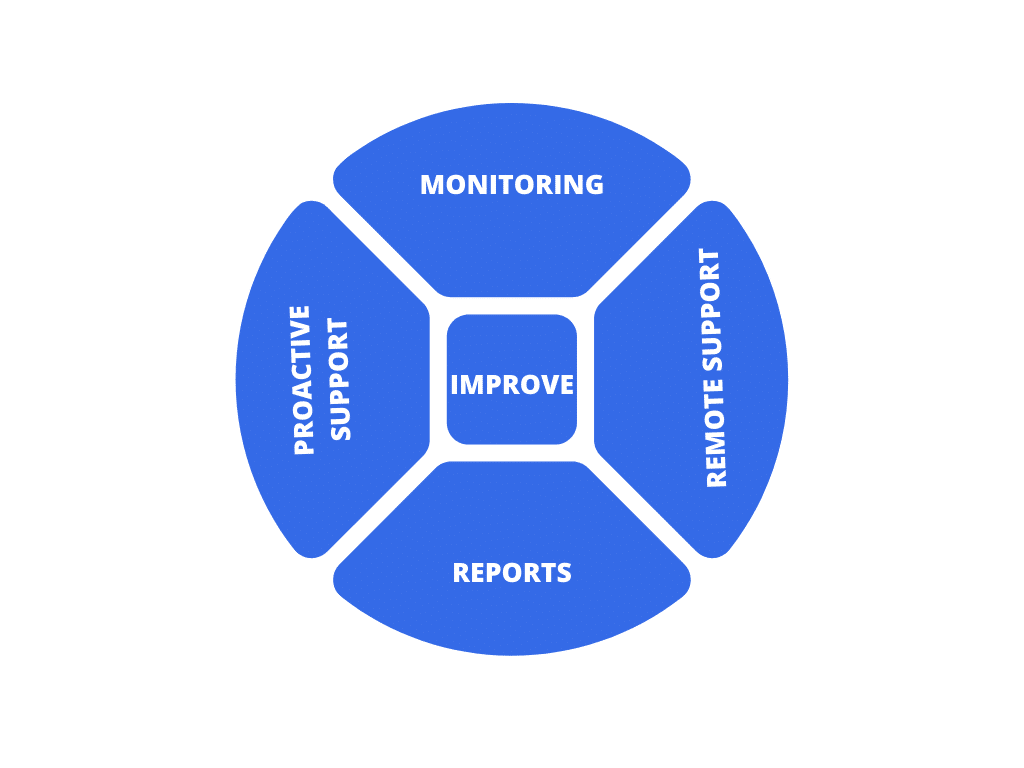 Our Managed IT services Dallas Offers
IT management is no more hurdle for the Business in Dallas. We cover your IT environment and leave you free to focus on your business. Our managed IT services in Dallas is a tailor-made IT solution package to resolve all your IT glitches.
With years of experience in IT management and Server Support, our managed IT service in Dallas serve as a promising support hand for the businesses. Our professional team works 24/7 to deliver an unmatchable IT service and support end-to-end IT infrastructure.
Know more about our managed IT services in New York City
Server Administration in Dallas
We got a team of professionals to help you manage your servers. Our managed IT services in Dallas enables enterprises to get rid of their IT hassles arising around your server environment. We provide server setup, configuration, administration, troubleshooting, patching, upgrades, and protection.
Network Administration in Dallas
Our managed IT services in Dallas cover all sorts of IT network issues arising across your IT infrastructure. By monitoring the networks, our network administrators will evaluate the requirements of your IT network and install, upgrade the required software/hardware to help your networks work uninterruptedly.
Patch management service in Dallas
Our patch management experts take the task of patching your systems regularly. Based on the latest technical expertise and security measure, they will help you to maintain a robust infrastructure. Our managed IT services in Dallas includes operating system patching, server patching, application patching, security patching.
Microsoft Azure Consulting in Dallas
Microsoft Azure offers a wide range of cloud services to upscale your business. Our managed IT services in Dallas helps you to choose, plan, and deploy your business environment to get the most out of the Azure platform. Our Azure experts strategically guide you and re-construct your enterprise IT environment.
Our certified AWS professionals help you to deploy, manage, and integrate industry-best AWS cloud technologies. We will analyze your particular business proposition and recommend ideal AWS solutions to build your cloud environment on the AWS platform.
Office 365 Migration in Dallas
Our Office 365 migration services in Dallas helps to move your business to an efficient environment. Leaving all the troubles of downtime at the bay, you can reduce time loss, resource loss, and save costs all the way. Our Office 365 migration experts assure secure and transparent data migration model for your Business in Dallas.
Virtualization Service in Dallas
Our managed IT services in Dallas provide professional monitoring and managing virtual servers. Our virtual server infrastructure management models with appropriate tools and technologies ensure the perfect deployment of virtualization of servers and provide a stable base for performing your operations. Our server virtualization experts help you to plan, configure, manage, migrate, stores troubleshoot, patch, upgrade, and secure the virtual server infrastructure.
High Availability Solution in Dallas
Our managed IT service experts in Dallas keeps your business always up. Our approach, while planning, monitor, and develop a futuristic high availability solution model, is to ensure an uninterrupted business atmosphere with the possible minimum downtime. Your business consistently under our surveillance, and we will arrange the adequate high availability cluster based on the requirements.
365 x 24 x 7 NOC Monitoring in Dallas
We ensure 24/7 uptime of our client IT networks. Our network engineers work in tandem to deliver exceptional operational efficiency through tout your business network service. Our managed IT services in Dallas cover the security needs of IT network infrastructure and helps to experience and uninterrupted network service.
Google Cloud Consulting in Dallas
Work hand in hand with Google cloud professionals to step into your cloud infrastructure confidently. Our cloud experts will help you to get the most out of the Google cloud platform with the best practices throughout planning designing and implementation.
Now describe your business needs