We are the Most Preferred Managed IT services provider in Calgary area by SMB's
Get the most out of the technology with our Managed IT Service in Calgary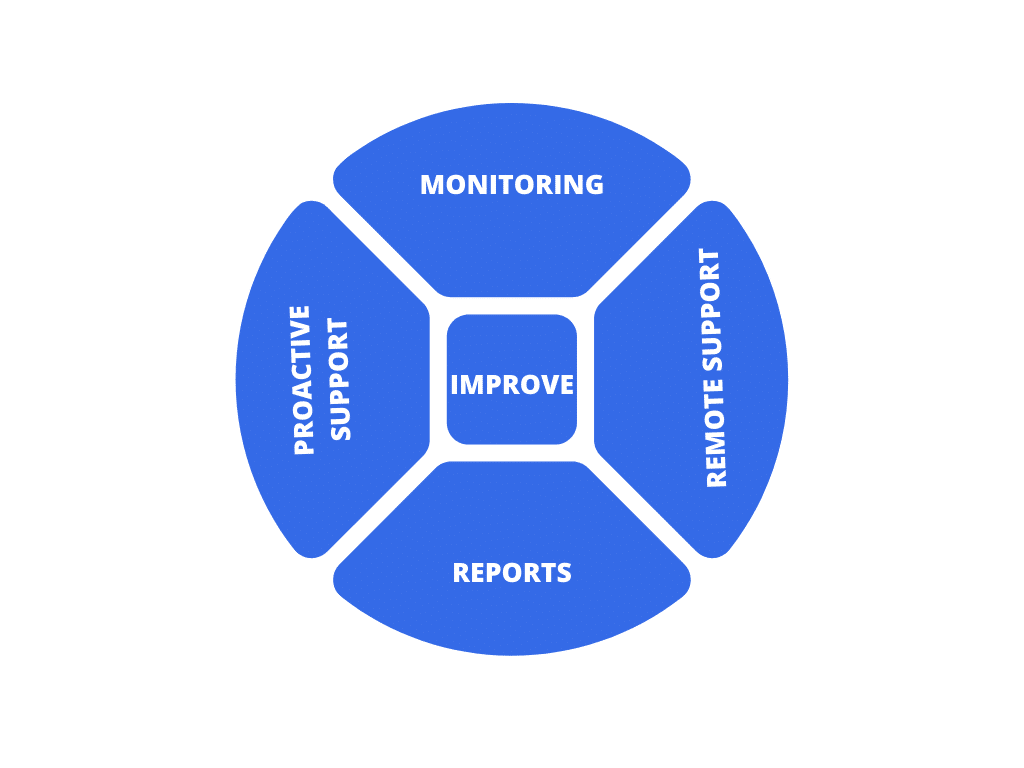 Our Managed IT services in Calgary Offers
Experience reliable managed IT services in Calgary with professional assistance. Our customer-centric IT management approach helps you to cut down IT management troubles arising across your business journey. Enjoy expert IT service management to meet your business goals.
Our managed IT service in Calgary gives 360° care for your company's IT systems and networks. Understanding the point of the relevance of a proactive network infra, hardware support, software service in a business surrounding, we are providing cutting-edge service to give the best in class IT support. Our trained IT experts, including engineers and technicians, formulate an easy yet efficient strategy to follow the best IT management practices.
Experience round the clock IT service for your business with professional assistance. Our tailored and industry-appropriate managed IT services in Calgary provide total care for your IT infrastructure. You can get all our range of service at a flat money rate with the option to choose the required service.
Know more about our managed IT services in Calgary
Server Administration in Calgary
We provide server administration service that includes installations, upgrading, configuration, server security, DNS issues, and much more. Our trained server administrators are endowed with years of experience in server management tasks of all kinds and assure a timely fix on an affordable price plan.
Network Administration in Calgary
Our network administrators are well trained and have years of experience in various levels of network management solutions. Out network management team will help you to implement, maintain, and monitor the business-critical network infrastructure and secure your environment threat free.
Patch management service in Calgary
Secure your in-house and distributed systems, end devices from evolving cyber threats. Our experts in patch management support will monitor your infrastructure and fix eh problem in real-time. Patch testing, impact assessment, patch installation, and report are the extended service that we can offer you our managed IT services in Calgary.
Microsoft Azure Consulting in calgary
Build your critical business models on Microsoft Azure and leverage the extended possibilities of cloud computing. Our managed IT services in Calgary offers tailored Azure-based services to automate your business operations at scale. Our Azure architects will guide you from the start to the end and further support you in managing your business platform over Azure.
Aws Consulting in calgary
Scale-up your business environment with advanced computing, storage, and functionality technologies with AWS. Our AWS consultants will help you to gain the potential advantages to increase the versatility and reliability of your business. Our managed IT service team in Calgary walks you through the migration, deployment, and functioning of the application and other AWS solutions to get the best out of it.
Office 365 Migration in Calgary
Re-engineer your business IT infrastructure on Office 365 and soar your business operational efficiency to new heights. Our skilled Office 365 migration experts will help you to frame out the fastest and safest roadmap to migrate and help to optimize the infrastructure with 24/7 support.
Virtualization Service in calgary
Experience data mobility, virtualized data centers, and doubling your hardware and software asset functionality via out top-notch virtualization service. Our virtualization experts will help you to build a scalable physical and virtual IT environment to run your applications without any snags. Our managed IT service in Calgary provides a range of virtualization services with 24/7 service support.
High Availability Solution in Calgary
Get the desirable performance from your systems and keep them highly available with our High availability service support. Our highly experience high availability support managers will help you to gain that difficult-to-achieve point of system availability with proactive support.
365 x 24 x 7 NOC Monitoring in Calgary
Let us supervise your network clusters and keep them up 24/7. Our trained NOC engineers take care of the remediation and monitoring tasks and reduce your unexpected downtime and overhead. Our managed IT service in Calgary cover all sort of operation that needs to maintain your network centers updated and threat free
Google Cloud Consulting in Calgary
Leverage the full potential of Google cloud computing solutions with our managed IT services in Calgary. Our skilled cloud engineers will help you to strategize the best roadmap to excel in your business over Google cloud. Our fast-track cloud management solution can further lead you to utilize the cloud facilities to supercharge your business
Now describe your business needs