The most trusted Managed IT Services in London
Get all your IT Management done at an affordable monthly flat rate.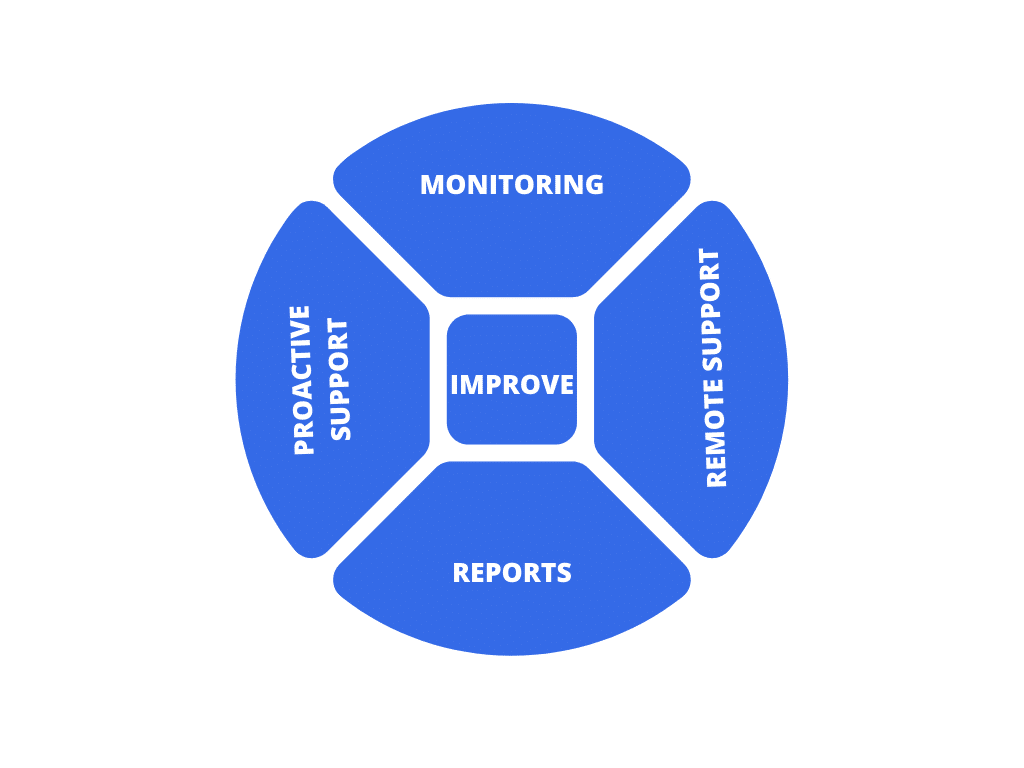 Our Managed IT services London Comprises
Medha Hosting offers promising managed IT services in London for years. With our professional experience and technical knowledge, we are helping enterprises to grow exponentially. Our in-depth IT management approach allows businesses to leverage greater operational efficiency and reduce their IT cost. Among the managed IT services in London, we can assure 99.9% uptime intact.
Medha Hosting is partnering with hundreds of enterprises to help to manage their IT infrastructure. We are a team of experienced IT professionals with ample knowledge of IT services. We provide end-to-end business-specific IT services with promising results.
Know more about our managed IT services in London
Server Administration in London
ur server administration service covers everything coming across that enables your server to work seamlessly. Our managed IT services in London provides holistic server management that covers the top to bottom of your server environment. Instant troubleshooting, regular monitoring, data recovery, and a lot of tasks will be covered by our server administration team.
Network Administration in London
Keeping the networks steady is a mundane task. Our network administrators help you to get free from such tiring tasks and provide exceptional network management service round the clock. Identifying the weak points and the threat prone zones in the network, our managed IT services in London ensures your networks are strong enough to upkeep your business continuity.
Patch management service in London
There are tens and thousands of systems, networks, servers, applications involve in the IT infrastructure of a business. Our patch management service covers all your IT environments and updates; it will provide the latest security measures and patch updates.
Microsoft Azure Consulting in London
Our Microsoft Azure experts are well-versed with formate tailor-made cloud solution on Azure platform businesses. Our Managed IT services in London team comprises of certified Azure professionals who can solve all your problems and lead you into the Azure platform quite confidently.
Based on the readiness of your business infrastructure, our AWS architects help you to get prepared to leverage the best AWS cloud solutions. With our years of expertise, we will prescribe your kind of solutions to deploy. Our certified AWS experts lead to plan, design, and implement the business solution on AWS.
Office 365 Migration in London
Choose the ideal team to help you migrate to Office 365. Let us help you to prepare to get the move to a highly productive environment without any downtime. Our certified Microsoft technicians will analyze the requirements and design a migration map to replace your business environment. Our managed IT services in London will take a holistic approach to ensure the smoothest, safest, and most cost-effective migration for your business.
Virtualization Service in London
Virtualization is a cost-effective solution to improve business performance without any overhead IT cost. Our trained virtualization experts help you to get into this modern approach to reduce cost, infrastructure space, and other hassles. Our managed IT service in London provides professional virtualization services so that your entire IT can be hosted off-site as well.
High Availability Solution in London
Our IT engineers know how crucial is high availability for a business. Hence understanding the vulnerabilities across the IT infrastructure of your business, our IT experts in London will help you to attain 99.9% uptime all across your systems and end-points. Our trained engineers help to ensure a steady network availability through out your operation hours at the best.
365 x 24 x 7 NOC Monitoring in London
Lack of an operative NOC causes insistent IT issues that lead to expensive project delays, endless stress, and serious vulnerabilities that threaten your business. Our NOC monitoring service in London ensures that your network, servers, and other IT components are threat free and cover with better measures. Reach our managed IT service in London to get the best NOC monitoring service in place
Google Cloud Consulting in London
Being one of the go-to Google cloud consultants, we offer an extensive Google cloud support for our customers. Analyzing the business propositions and future requirement our Google cloud consultants suggest the best cloud transformation solutions. Plus you can get the best managed IT services in London. 
Now describe your business needs